The heart of leadership according to Scripture is servanthood (Mark 10:42-45), the Bible also teaches that legitimate leaders have authority, in the sense of a right to direct others. This authority comes from God and is delegated to leaders for the good of the church. 
Within the church you will find groups of people who meet together to brainstorm, strategize, make recommendations or decisions and plans on how to effectively do ministry in a certain area of church life.
Education is essential to helping people grow in their knowledge of the faith and in their walk with GOD.
Do you have a testimony to share about how God has blessed you or answered your needs through the Holy Communion, or in other ways through this ministry? We would love to hear about your answered prayers or praise reports of what the Lord is doing in your life, and rejoice with you! 
Your praise report glorifies His name and God can use it to bless others. Thank you for being a blessing to others by sharing your praise report with us!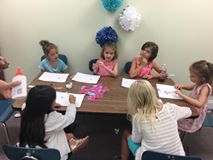 Quinn Capps-Wartenbe shared a photo.
July 30, 2018 –The kids had so much fun in Children's Church yesterday at Manteo Faith.
Wow it's been a year already!!! So blessed to have Pastor Steve and Deb with us! Our little church family loves in such a BIG way! We are so very blessed!  — Jessica Mason-Everett (Aug 12, 2017)